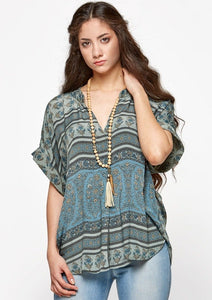 Thoughtful Top- Upcycled Saris
Regular price $49.00 Sale
The Thoughtful Top is made with upcycled saris, that have an amazing history.
Each of the high quality Rasgulla saris are collected by bartering in Indian villages and are re-fashioned by Guru for you! Individual fashion designs, created for women like you, who respect unique style and the sustainability movement.
Because GURU saris have history, they may also have minor imperfections that are camouflaged in the beauty of the exquisite saris. These type of petite flaws you will embrace, much like our own personal flaws.
Because nothing and no one is perfect  
Fabric:  Up-cycled one-of-a-kind Saris    
Step 2- Pick your size
Step 3- Pick a Light or a Dark Print
Step 4- You receive a Specially selected one of a kind piece just for YOU!
** Image is used for an example, every print is Different**
GURU FOR LIFE